Temperature Map and Three Ice Rich Regions on Tempel 1's Surface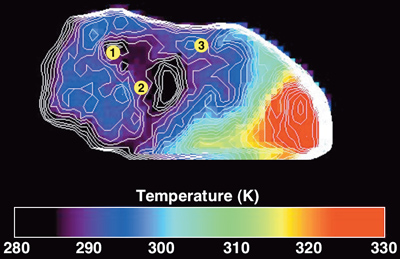 This temperature map was derived from the IR spectrometer on the Deep Impact flyby spacecraft. Three ice-rich regions marked by numbered yellow dots, are located near locally cold regions with temperatures of ~285, 290 and 295K, respectively.
CREDIT: NASA/UM/SAIC J. M. Sunshine et al., Science in press (2006); published online 2 February 2006 (10.1126/science.1123632). Reprinted with permission from AAAS. Permission to reproduce.