Comparative Comet Orbits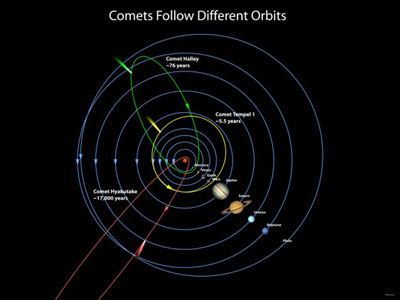 Looking from above the Solar System, you can see that comets have much more elliptical orbits that the planets. Here, the orbits of comets Tempel 1, Halley and Hyakutake are shown. Each represents a class of comets. Hyakutake, with an orbit that takes it into the far reaches of the outer Solar System is a long period comet, meaning that it takes over 200 years for it to go around the sun. Halley and Tempel 1 are both short period comets (less than 200 years to go around the sun). Tempel 1 is also part of a Jupiter-family of comets meaning that its orbit is affected by Jupiter.
Some comments: the orbits are shown from above and are 'flattened'. The comet orbits are inclined to the plane of the Solar System and may in fact be above or below a planet's orbit in spots where it looks like they intersect. Although this graphic is not to scale, please note that the orbit of Tempel 1 does not come near Earth's.
CREDIT: Kay Gibson, Ball Aerospace & Technologies Corp.