First Light with the MRI and HRI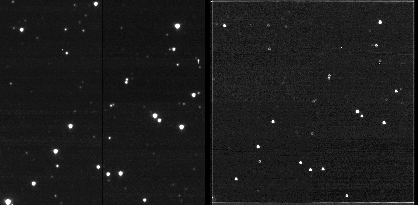 This image shows the first light images taken by the MRI and HRI instruments on the Deep Impact spacecraft on its way to impact with Comet Tempel 1 on July 4, 2005. The two telescopes were pointed at the open star cluster, NGC3532 (that's its name, nothing we can do about it). The left shows the middle portion of an MRI image. The right is the full HRI image scaled to the field of view of the MRI (reduced by a factor of 5). The star patterns match quite well (see Digitized Sky Survey image below) telling us that the telescopes are operating as expected and are pointed in the same direction (boresighted). For the technophiles, the boresite alignment is 98 micro-radians, and the rotation around the boresites is about 0.12 degrees. Stars in the MRI image are as faint as mv=12.5 in the 6 second exposure. The HRI is, as expected, out of focus. It was designed to come into focus after the bakeout heaters are run for several weeks.
CREDIT: NASA/JPL-Caltech/UMD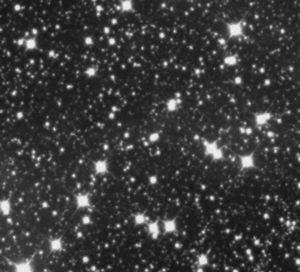 This long exposure image is included here as a comparison to show the star patterns in NGC 3532 and is a cropped portion obtained from the Digitized Sky Survey. Can you match up the stars?
CREDIT: © 1992-5 UK SERC/PPARC