Instrument Platform and Team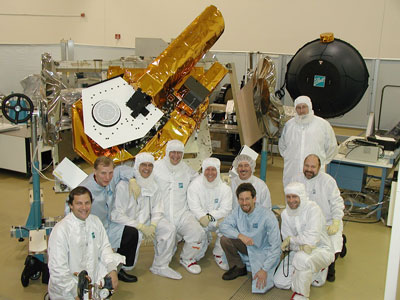 Several members of the instrument team at Ball Aerospace celebrate a major milestone in the Deep Impact mission - mounting the instruments to the instrument platform of the flyby spacecraft. These instruments will observe the impact from a safe distance and then look inside of the crater as Comet Tempel 1 flies overhead.
From Left:
Don Hampton, System Engineer
Marty Huisjen, Instrument Manger
Ed Ruskus, Master Technician
Tom Yarnell, Lead Mechanical Engineer
Glen Taudien, Mechanical engineer
Jim Baer, Optical Engineering Lead
Darrell McConnell, Production (parts and procedures)
Jim Tucker, Master Technician
Carlos Lopez, Quality Assurance
Chris Burno, Lead Quality Assurance
In the background
Big gold cylinder: High Resolution Instrument telescope (12 inch diameter and 5 feet long!)
White Plate: Spectral Imaging Module (Infrared imagining spectrometer, like a camera with 500 filters.)
White Circle: Passive radiator (When facing deep space, it gets down to -180 °C to cool the detector.)
Black box on gold box: The Medium Resolution Instrument (Filters in black box, Telescope in gold box)
CREDIT: Ball Aerospace & Technologies Corp.