Anne Elson
Flight System Impact Contingency Developer, Deep Impact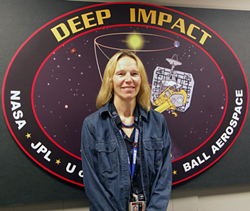 What's the coolest thing about Deep Impact?
The coolest thing will be hitting the comet. This is so hard to do and the team has worked so hard for long to be successful that finally achieving this will be totally amazing.
Why do you like working at Jet Propulsion Laboratory?
It has a university like atmosphere and the people are wonderful (smart and hardworking and in general just really amazing people to know and to work with).
What is your job on the Deep Impact project?
During the development phase before the spacecraft launched I managed software and then I managed all the JPL folks supporting the development of the Flight System. I have a new job now off the project but have come back these last two months to help the project get ready for encounter. I am developing the Flight System Impact Contingency, which is for the unlikely event that our two spacecraft fail to separate. The contingency includes commands and sequences to fly both spacecraft into the comet.
How did you end up in Aerospace?
I ended up here more-or-less by accident. I got a job programming flight software on the Galileo Mission. I loved it and have never wanted to work anywhere else since coming to the lab.
What do you do in your spare time?
I am a pilot. My husband and I own a Beech Bonanza and we take lots of trips in it. We also like to bicycle and hike. Another favorite hobby is scuba diving. We try to take at least one trip a year to go diving in a warm tropical place.
Who in your life inspired you?
My father primarily, he has always been extremely hardworking.
What is one yet-to-be achieved life goal?
My husband and I want to design and build a completely green, self sufficient (energy wise) home for retirement. We have started working on the plans for the house.
Were you science-oriented as a young person?
I excelled in science and math throughout high school but in college I got interested in anthropology and worked on degrees in that field.
What was your favorite book as a young person?
One of my first science fiction/fantasy books that I read in second or third grade called "A visit to the Mushroom Planet". This started my life long love of science fiction and fantasy books.
What did you want to become when you were young?
I didn't have a clear idea. I did want to do something having to do with space exploration but I did not actively work to achieve a career that would do this in either high school or college.
If you weren't working in space exploration now, what might you be doing?
I might be a software programmer in another discipline or I might be a commercial pilot.
Biographical details contained on these pages were correct during the Deep Impact mission which ended in 2006. Several scientists from Deep Impact are now working on related missions such as EPOXI and Stardust-NExT.