Bill Frazier
Flight System Engineer, Deep Impact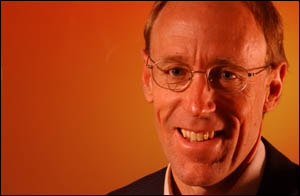 What is the coolest thing about Deep Impact?
Intercepting a comet moving at 40 km/s and taking pictures of the impact event, when we know very little about how it will look.
Why do you like working at Ball Aerospace?
It's variety of programs. Ball Aerospace is very people-oriented, with great opportunity for personal freedom, expression, and opportunity.
How did you end up in the aerospace industry?
I was lucky enough to get an Aerospace R&D summer job as a Sophomore Mechanical Engineering student at University of Colorado. I also got into Solar Mesosphere Explorer (a Ball Aerospace spacecraft launched in ~1982) operations. I read Aviation Week religiously for many years and decided I wanted to be a spacecraft systems engineer by age 21. I went on to get my MS in Aerospace, and (later) Ph.D. in orbit mechanics. (See below regarding favorite books.)
What do you do in your spare time?
Spend time raising my three kids as a single parent, including homework, projects, chores, church, long vacations, music, and many other activities. Also skiing, biking, swimming, running, triathlons, tennis, hiking, camping; and doing all of these with my kids whenever possible.
What is one yet-to-be achieved life goal?
My job on Deep Impact is perfect for me, so I have already met most of my career goals. I have also met many substantial athletic goals over the years. My kids are presently doing great. So my remaining big project is to work on the quality of my relationships with people in general, and be the best person that I can be.
What do you hope to learn from the Deep Impact mission?
What comets are made of; how to fly deep-space spacecraft through critical sequences; and how to lead the system engineering effort on one of Ball Aerospace's biggest programs.
Who inspired you?
Arthur C. Clark, Ray Bradbury, and many other sci-fi writers of the '60s, and of course, the original Star Trek, and then 2001: A Space Odyssey. Also, several of my early bosses in my first few jobs were great.
Were you a science-oriented kid?
Yes - both of my parents worked at the Lawrence Radiation Laboratory in California (my Mom later became a H.S. math teacher), so I was surrounded by science and engineering my whole life.
What was your favorite book as a kid? Childhood's End, by Arthur C. Clark.
What did you want to be when you were a kid?
In high school, it became very obvious that I'd become an engineer. On my aptitude test, all five of my top scores were for various types of engineering. Other than that I wanted to be a ski racer, which I was also able to do at the University of Colorado.
Biographical details contained on these pages were correct during the Deep Impact mission which ended in 2006. Several scientists from Deep Impact are now working on related missions such as EPOXI and Stardust-NExT.