Felicia Sanders
Deep Impact Ground Systems Telemetry Engineer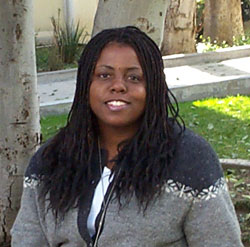 What's the coolest thing about Deep Impact?
The Deep Impact Mission will actually allow the world a look inside of a comet-no one has ever done that before!
Why do you like working at Jet Propulsion Laboratory?
There is ALWAYS something exciting and new going on at JPL! Engineers at JPL have made significant advances in space science. In addition to advancing space science, engineers at JPL have made significant discoveries in other areas such as advances in medicine.
How did you end up in Aerospace?
One of my college roommates worked as a summer hire at JPL. She'd eagerly tell me stories about her job. I thought it might be a pretty exciting place to work. I applied and got a job right out of college. I wouldn't dream of working any place else!
What do you do in your spare time?
Spare time? What's that? When I have "spare time," I like to work in my garden, work on art and craft projects, and read. I also enjoy attending football and basketball games with my family. There's nothing like a good high school football game!
Who in your life inspired you?
I have been, and continue to be, inspired by many people. My mom has instilled in me the desire to never, never ever give up when faced with an obstacle. My fourth grade teacher, Mrs. Collins, taught me that learning really is FUN. My daughter, Danielle, motivates me to be patient at all times, and even if I'm not patient on one day, I can always try again at the next opportunity. My son, Reco, shows me what it means to be a true leader. My fiancé, Albert, sets the best definition of what it is to have patience.
What is one yet-to-be achieved life goal?
I'd love to take a year or so off from work, jump in a mobile home and travel along the back roads of America.
Were you technically/scientifically oriented as a young person?
I wasn't technically oriented as a young person. I liked reading, watching television and riding my bike. Taking things apart and putting them together again was not that appealing. In high school, math was not a very appealing subject, either. At the time, I could not understand how it was going to help me after high school.
As a pharmacology major in college, my understanding of the value of mathematics quickly changed. During my first quarter of chemistry, I used mathematics a lot. After looking at various fields of study, I discovered that mathematics is used everywhere! Mathematics is used in engineering, physics, medicine, and many other fields of study. Ironically, during my first year of college, I decided I would continue my studies in mathematical sciences.
What was your favorite book as a young person?
I was an avid reader as a young person. The Laura Ingalls Wilder Little House book series was a favorite of mine. It was interesting to learn about life in the frontier era through the eyes of a young girl.
What did you want to become when you were young?
I was going to become a registered nurse. When I was in high school, I got a summer job as a nurse's aide. I soon discovered that it caused me more pain to see people suffering. Besides that, I couldn't take the sight of blood. (I fainted three times while trying to "help" with procedures!) At that point I knew I had better think about finding another profession.
If you weren't working in space exploration now, what might you be doing?
I'd probably be an architect. I am fascinated by the thought of creating a design on paper and getting it just right, then watching that design sprout from the ground into a beautiful masterpiece. On top of that, it would be such a reward to know that, for years to come, families were happy to live in a home that I designed.
What do you do on the Deep Impact mission?
I am a Ground Systems Telemetry Engineer.
What does that mean?
The spacecraft sends information to the ground over radio waves. This information is called spacecraft telemetry. Spacecraft telemetry contains information about the health of the spacecraft, as well as important information about new spacecraft discoveries. From the ground, scientists send commands over radio waves to the spacecraft. These commands tell the spacecraft to perform different tasks. The commanding of the spacecraft is called telecommand. The Multimission Ground Data System is used for communication with the spacecraft.
I am a systems engineer for the Multimission Ground Data System. The Multimission Ground Data System consists of a set of programs that are used to communicate with the spacecraft. It is the job of the ground data system to interpret the telemetry (0's and 1's) coming from the spacecraft, and to provide that information to engineers and scientists. The ground data system is also used for sending streams of commands (0's and 1's) to the spacecraft. As a systems engineer, I work with a team of other engineers who make sure that the ground system is equipped with the ability to get commands to the spacecraft and get the telemetry from the spacecraft, so that scientist can make new discoveries to share with the world.
Now, for a little bit about those 0's and 1's... Imagine a written language where letters, as we know them in English, are not used in writing the words of the language. Rather than letters, the language only uses two characters that are actually numbers: the number 0 (zero) and the number 1 (one). Suppose now, that different combinations of the number 0 and the number 1 define "words." For example, the characters "0110" might be the word "good," and the character string "1110" might mean something totally different in this language. Consider this language made up of 0's and 1's to be the language spoken by spacecraft, where different combinations of 0's and 1's mean different things to different spacecraft. On July 5, 2005, scientists and engineers will command the Impactor to collide with Comet Tempel 1, by sending a specific stream of 0's and 1's to the spacecraft. Ultimately, it is a string a 0's and 1's that will make up a picture of Comet Tempel 1, as the Impactor Spacecraft collides with the comet. The Multimission Ground Data System will "collect" the strings of 0's and 1's (telemetry) into files of data that will ultimately become the pictures that scientists will share with the public.
Biographical details contained on these pages were correct during the Deep Impact mission which ended in 2006. Several scientists from Deep Impact are now working on related missions such as EPOXI and Stardust-NExT.