Harold Montoya
Flight System Manager, Deep Impact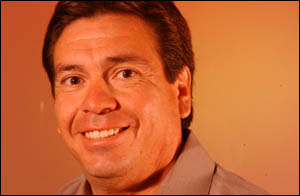 What is the coolest thing about Deep Impact?
Deep Impact is one of those rare opportunities to do something no one else in the world has ever done. I will never fly in space, nor will I hit the winning run in the World Series, but I will be one of only a few people in the world who can say I helped put a crater the size of Coors Field in a comet. Now that's cool!
Why do you like working at Ball Aerospace?
Ball Aerospace is a unique place to work. During the almost 18 years I've worked at Ball I have been allowed to pursue many different opportunities, and work on some fascinating projects. I also appreciate Ball's strong commitment to family and personal well-being that is essential to maintaining a healthy work environment.
How did you end up in the aerospace industry?
I was given an opportunity to work on the Space Shuttle development as a summer job for Rockwell International. I was crammed in a large, drafty, airplane hangar with at least 500 coworkers, each with about 40 square feet of personal space. But, the excitement of what we were doing was great. At that time no one had ever driven a "truck" back through the Earth's atmosphere and landed it safely so it could be reused. Everybody understood the challenge and took personal responsibility for the lives on-board the Shuttle. It made the decision to stay in aerospace after graduation fairly easy.
What do you do in your spare time?
I don't have much spare time right now, but when I have spare time I like to ski, bike, and hike with my family.
What is one yet-to-be achieved life goal?
To see my children as happy, self confident, and successful adults.
What do you hope to learn from the Deep Impact mission?
That Ball Aerospace is capable of successfully completing inter-planetary missions.
Who inspired you?
My father has been my greatest inspiration. He has always set a great example of taking responsibility for the choices you make in life, and accepting the challenges with dignity.
Were you a science-oriented kid?
Yes, my mom still has a caricature (done in 1968) of me riding on a rocket. The caption is "Hey mom, look what I built!" How scary is that?
What was your favorite book as a kid?
I really didn't have a favorite. I liked comic books, and adventure stories.
What did you want to be when you were a kid?
I wanted to build things. I would wander through the open fields in my neighborhood looking for scraps of lumber, bike parts, old lawnmowers, and build stuff with whatever I found. I don't have to scrounge through the fields to get parts for Deep Impact, and they won't let me touch the hardware anymore, but I still love to be in the shops watching it all come together.
Biographical details contained on these pages were correct during the Deep Impact mission which ended in 2006. Several scientists from Deep Impact are now working on related missions such as EPOXI and Stardust-NExT.