John Marriott
Ball Aerospace & Technologies Corp.
Program Manager for Deep Impact
John's Bio Up Close and Personal
An Interview with John Marriott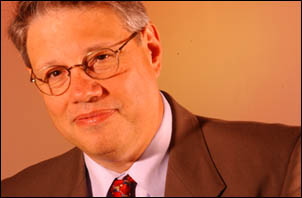 What is the coolest thing about Deep Impact?
It's the largest challenge I've ever decided to undertake in my life. Being involved in new science is thrilling. That's what brings me to work every morning. Plus, you get to meet the best people. The people making this happen are brilliant.
Why do you like working at Ball?
Ball provided me the opportunity to do whatever I wanted. There's some magic that happens here that isn't obvious. The people here are different. It's an eclectic mixture of Boulder and brilliance that is always an immense success.
How did you end up in aerospace?
My mother encouraged me. She was the responsible lead for building the fuel systems at GE Aerospace, which became Parker Aerospace. She was in charge of production processes and calibration of fuel systems in the clean room. She suggested that I try to get a job there because I was reasonably good in math. I did get the job and I started doing linear calibrations of hydraulic test standards.
What do you do in your spare time?
Besides work? Most of my spare time is spent riding my new motorcycle and driving my BMW M Roadster. Today I rode my Harley-Davidson Road King Classic to work. I used to race motorcycles - I've been over the handlebars more times than I can count - but since getting older I've got a little smarter.
What is one yet-to-be achieved life goal?
My goal is to make a January '04 launch date for the cost we said, and return all the Deep Impact science. Actually, I have spent my life searching for my limitations and somebody always keeps putting out new challenges, and I can't say "No."
(Note: The Deep Impact launch period has since been changed to begin in January 2005).
What do you hope to learn from the Deep Impact mission?
I hope to find out whether comets really are the building blocks that started it all.
Who inspired you?
My mother. While my father was always involved in my life, the thing that has impressed me since I was 16 was my Mom's mechanical savvy. When my Volkswagen broke down, I spent forever trying to fix it, and my Mom found the mechanical problem and fixed it within 10 minutes. She created a link between the carburetor and choke, I turned the key and the darned thing started and became a very reliable vehicle. I never forgot that lesson.
Were you a science-oriented kid?
I was an experimentalist. I liked to blow things up and crash things and probe electrical things that shouldn't be probed in the name of exploring electricity. Instead of exploring more science through my own experiments, I was sidetracked by sports.
What was your favorite book as a kid?
The Wizard of Oz. When you had perfect attendance in school, you got to pick out books from the library. It was the first book I picked. As I've expanded my literary horizons, I've found Hemmingway's The Sun Also Rises is also pretty cool.
What did you want to be when you were a kid?
I wanted to play for the Yankees, but I honestly had no expectations. I was sports-oriented, but I turned down baseball scholarships and chose working for a living to see what happened. I later got an associates [degree] in math and science and a bachelor's degree in business administration and finance. I never could have imagined that I'd be doing what I'm doing.
Biographical details contained on these pages were correct during the Deep Impact mission which ended in 2006. Several scientists from Deep Impact are now working on related missions such as EPOXI and Stardust-NExT.