Kavita Kaur
Software Stress Tester, Deep Impact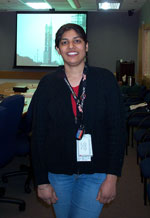 What's the coolest thing about Deep Impact?
The most amazing thing about Deep Impact is that we are attempting to hit a comet to unravel the mystery about its structure and composition and the universe at large for the very first time ever.
Why do you like working at Jet Propulsion Laboratory?
I joined JPL roughly 3 years ago and since then I have enjoyed every moment I have spent here. It's great to work with smart and motivated individuals involved in creating various awe-inspiring space missions.
How did you end up in JPL?
I ended up at JPL through campus recruitment. This is my first job after graduating with a Masters in Computer Science.
What do you do in your spare time?
I really don't have any spare time since I had my baby who is a year old now. It's been quite challenging trying to balance work and home. I like to spend as much time as I can with my little one once I get home from work each day.
Who in your life inspired you?
Both my parents have inspired me in their own ways. My father's ever growing yearning to improve and better himself, holistically, continues to amaze me and inspires me to be like him. Though an architect by profession, he writes, paints, sings, and participates in several intellectual talks and gatherings.
My mother inspires me to be a supporting, loving, and caring parent, who is always there for the sake of their family. My husband's excellence in his profession as a software programmer motivates me to bring the same attitude toward my work. It's amazing; my year old son inspires me to never give up, and to be strong in the face of any kind of hurdle.
What is one yet-to-be achieved life goal?
My career has just started. I have a lot to learn and need to work hard each day. There are a lot of milestones to achieve. It would be very encouraging to see Deep Impact be successful and meet the science goals it was aimed for.
Were you science-oriented as a young person?
Yes, I was very science-oriented as a young person. I just loved math and science, as they seemed more logical and easily comprehensible to me.
What was your favorite book as a young person?
There was no particular favorite. I liked books related to science and short stories.
What did you want to become when you were young?
I wanted to be a teacher. I often played with my dolls, making them my students, and myself acting as a rather strict teacher!
What is your title and what do you do at JPL?
I began by working as the Software Stress Tester for Deep Impact. My primary job as a Stress Tester was to design and develop test cases to exercise the flight software in ways, which would either determine the point at which it breaks, and how it breaks, or ascertains how it degrades under loaded conditions. This involves testing different components of flight software at the system level. Some of the tests I developed were file delivery protocol stress tests, network data flow, image data flow, flyby-impactor data flow and system load stress tests. In short, this testing in addition to the Mission Scenario Tests, provides further assurance that flight software is robust and can withstand loaded conditions as well. In 2005, I became a member of the Testbed team for support of tested related activities post-launch.
If you weren't working in space exploration now, what might you be doing?
I would probably be working for a software company producing commercial software.
Biographical details contained on these pages were correct during the Deep Impact mission which ended in 2006. Several scientists from Deep Impact are now working on related missions such as EPOXI and Stardust-NExT.