Sheryl Atterberg
Systems Design Engineer, Deep Impact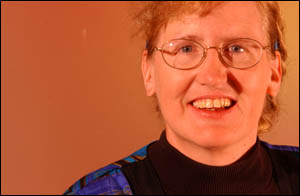 What is the coolest thing about Deep Impact?
The science of hitting a comet and taking pictures.
Why do you like working at Ball Aerospace?
The culture is more like a college campus than the military style of some Aerospace companies.
How did you end up in the aerospace industry?
More than 18 years ago, the aerospace industry was booming and the appliance industry was not. Right out of college I went to work for Martin Marietta (now Lockheed Martin) in Denver on the MX missile program, Peacekeeper.
What do you do in your spare time?
Run with my dog, hike, snowboard, ski, and camp.
What is one yet-to-be achieved life goal?
I'd like to be a technical manager on a spacecraft for an instrument program.
What do you hope to learn from the Deep Impact mission?
I have never been in the system engineering role before so it's a learning experience to see a program from this point of view.
Who inspired you?
I used to read a great deal about the early space pioneers such as Goddard.
Were you a science-oriented kid?
Somewhat. I was always interested in electronics.
What was your favorite book as a kid?
Lord of the Rings.
What did you want to be when you were a kid?
I didn't know.
Biographical details contained on these pages were correct during the Deep Impact mission which ended in 2006. Several scientists from Deep Impact are now working on related missions such as EPOXI and Stardust-NExT.