Thomas Bank
Systems Engineer, Deep Impact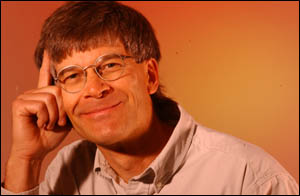 What is the coolest thing about Deep Impact?
As a child, I regularly disassembled items in my little world that I didn't understand, hoping I could figure out how they worked. In some cases disassembly required vigorous blows with a hammer. (In these cases re-assembly was generally troublesome.) The Deep Impact program (like high-energy nuclear physics experiments) applies exactly the same principles I used as a child - If you don't understand it, hit it and see what kind of pieces fly out. Smacking a comet with a 350kg "hammer" at 10.2 km/sec is bound to teach us something.
Why do you like working at Ball Aerospace?
The people and the problems. Great, great people, who are smart, experienced, and fun to work with. The problems are challenging and provide opportunities to learn new things everyday. As my esteemed colleague Charlie Schira likes to say, "Every day is a school day!"
How did you end up in the aerospace industry?
Chance and a little good luck. As a child, my interests were very broad but I particularly liked math and science. I studied electrical engineering in college and after graduating ended up working on spacecraft. It's been so much fun, I'm still doing it today.
What do you do in your spare time?
Compose and play music, hike, ski, and backpack.
What is one yet-to-be achieved life goal?
I'd like to live to be 150 years old. This would allow me the chance to be proficient in multiple careers including engineering, music, and genetics research. Unfortunately, my expected life span of 80 years (give or take a decade) is unlikely to support the depth of involvement in each of these careers that I'd like. I'll be lucky to do a half-decent job with engineering.
What do you hope to learn from the Deep Impact mission?
How to build, test, and fly deep space missions. This means working with the ground systems, the spacecraft, the science instruments, the scientists, and our partners at JPL.
Who inspired you?
There was no shortage of inspiration in my life. My dad worked in research labs most of his career and I remember visiting his lab on the weekends. The sense of wonder and excitement was overwhelming. Later in life, I learned about the likes of Hipparcos the great Greek astronomer who discovered the precession of the equinox 1,500 years before the first telescope. Or Maxwell deriving the fundamental equations for electro-magnetic wave propagation a hundred years before there were light bulbs. And when Mozart, in a letter to his sister said, "I've finished another symphony, I only have to write it out," implying it was all in his head. We take so much for granted in our lives today, but for me it's inspiring to think back to the folks who first figured it out.
Were you a science-oriented kid?
Yes, I always liked science and math. As a kid I experimented with optics, electronics and "chemistry" (AKA pyrotechnics) projects.
What was your favorite book as a kid?
I read a lot so it's hard to identify a favorite. Curious George was a big hit. So was Harold and his Purple Crayon. Later in life I progressed to a series of books about this young boy who was always building cool stuff - I think his name was Homer Price. There was Homer Price Builds a Computer and Homer Price Builds a Hot Air Balloon and more I've forgotten. And of course, I was a regular reader of Popular Science magazine.
What did you want to be when you were a kid?
First off, I wanted to be a fireman, then a chemist, then for a long time I wasn't sure. I'm still in the not sure stage.
Biographical details contained on these pages were correct during the Deep Impact mission which ended in 2006. Several scientists from Deep Impact are now working on related missions such as EPOXI and Stardust-NExT.