---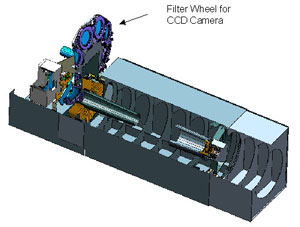 The Medium Resolution Instrument (MRI) serves as the functional backup for the (HRI) and takes images with a scale of 10 m per pixel in the visible spectrum at 700 km. It also provides science context, ejecta imaging, and targeting in visible wavelengths. The MRI visible field of view covers 1.2 times the expected diameter of the comet's nucleus at closest approach, about 7m per pixel.
Unlike the HRI's narrow field of view which is needed for high resolution, the MRI's wider field of view allows it to provide the context of the whole nucleus from different directions when HRI can only see a small part of the nucleus. The wider field of view also allows it to better view the stars and navigate through the gas and dust particles that surround the comet, especially during the last 10 days' approach to the comet.
The MRI telescope is a Cassegrain design with a 12 cm aperture and a 2.1 m focal length. The optics, mounts, and baffle tube are of similar construction to the HRI telescope. The MRI and the Impactor Targeting Sensor are identical other than the filter wheel.
---