Jessica Sunshine
Co-Investigator, Deep Impact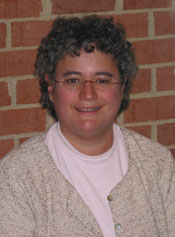 What is the coolest thing about the Deep Impact mission?
For me, the coolest thing is that we are doing a planetary scale lab experiment. We are duplicating an extremely important geologic process, impact cratering, with controls on the size, speed, and makeup of the impactor. The only thing we really don't know is the properties of the comet. Based on our understanding of how the impact process works, and controlling many of the variables, we can learn a great deal about the internal structure and strength of the comet. The material ejected from the crater will also give us our first real information on the internal composition of comets. One of the neatest things is that we are doing this experiment at the comet and folks with telescopes here on Earth will be able to observe changes in the comet because of it. That, I think, is very cool.
Where do you work?
I work at SAIC (Science Applications International Corporation). We are a big company (about 40,000, www.saic.com), but in many ways just a bunch of small companies. The people I work with all work on some aspect of remote sensing. In remote sensing, we use a variety of scientific instruments to understand surfaces without being there. A great deal of planetary exploration falls under the category of remote sensing. Our group includes both scientists and engineers who work on both data analysis and the software tools we need to process a great deal of data efficiently. While our group does many projects on our own, as part of SAIC's much larger organization, we also contribute to many other programs and projects that we wouldn't be able to do on our own.
How are you associated with the Deep Impact mission?
I'm a member of the science team with primary responsibility focused on the infrared spectrometer component of the High Resolution Imager and determining the composition and geology of the nucleus.
Why do you like working at SAIC?
It's a unique environment. First and foremost, I enjoy working with the people. I'm lucky to be able to work with a group of talented, bright, nice, and well-balanced (life vs. work) people. We also have flexible work schedules. I've been working part-time (4 days/week) since my second son was born. It's made a huge difference in my personal life, allowing me time with my kids and time to help keep our household functioning smoothly. At the same time, it hasn't had a negative effect on my career. I'm still seen and treated as a senior member of our group, and can manage projects and people. I think that's rare. Part of the reason is that my office has several employees who work part-time, allowing them to also focus on their kids or school. Others work "non-standard" hours to accommodate their families, commutes, school, or volunteering. On the technical side, we have a great balance of scientists and software developers. In addition, we have the freedom to work on many different aspects of remote sensing, but with the ultimate goal of getting information that is useful to people.
How did you end up working in space science?
Truth be known, it was an accident. I happened to be taking a second semester freshman geology course (Geochemistry at Brown University) because I liked chemistry and remembered liking a brief introduction to Earth Sciences I had in middle school. The geology department at Brown was one of the strongest departments; so I figured as a freshman, go with a strength. It turned out that the regular professor was on sabbatical, so one of the planetary faculty, Professor Carlé Pieters, taught the course. She offered me an opportunity to work on her research (planetary spectroscopy) I was hooked and Carlé ultimately became my Ph.D. thesis advisor. One of the really nice things about Deep Impact is that Pete Schulz is also on the team. He taught the next planetary course I took at Brown and later was on my advisory committee. It's great to be working "side-by-side" with him now.
What is your everyday work life like?
I don't really have a "normal" day. Every day is different. More often than not, I don't end up working on what I thought I was going to do when I walked in the door. That's exciting, but a bit chaotic. On some projects, like Deep Impact, I mostly work with people outside SAIC. On others, I work in small teams on projects. For the most part, I try to coordinate work and problem solve.
Are there any barriers to your work?
The biggest, like for most folks, is a lack of time.
What do you expect to learn from the Deep Impact mission?
Deep Impact is the first large project I've been involved in from the beginning. I've learned a great deal throughout the entire process including: how proposals evolve, how to go from paper to reality, what design/cost trade-offs need to be made, where unexpected problems arise, how to effectively calibrate instruments, as some examples. When we finally get to comet Tempel 1, we will be able to observe its composition at close range, and after the impact, be able to see what the interior surface make-up is, by getting through the outer presumably altered surface. We hope to be able to measure the properties of the ejecta from the impact. As time progresses we should be looking at material from deeper and deeper inside the comet. I'm looking forward to the upcoming part of the mission, collecting and analyzing the data to answer our scientific questions.
As a child, what did you want to be when you grew up?
I don't remember wanting to be anything (I need to ask my folks). I think all I knew is I didn't want to grow-up.
At what point did you determine that you would become a scientist?
I knew going into college I wanted to do something with math or science. I ended up as an applied math major and as I described above, sort of fell into planetary science.
Who inspired you?
I've been very fortunate in having a strong and encouraging family. My parents and older brothers always made me feel like I could do anything and education was always viewed as important. That came directly from my grandparents, all of whom immigrated from Russia and Poland in the first decades of the 20th Century. One of my grandfathers was a butcher, the other ran a luncheonette counter. They not only passed on their business skills, but they also passed on to my parents and to me a great sense of intellectual curiosity and a desire to ask questions and seek answers. I've also had a series of great teachers and mentors over the years, from math teachers who conveyed their enthusiasm for logic, to professors whose excitement about their research was palpable.
Were you a science-oriented kid?
I was always good at and like math and science. But I also loved history. So yes, and no.
What was your favorite book as a kid?
The book that stands out in my mind is "From the Mixed-Up Files of Mrs. Basil E. Frankweiler -- by E. L. Konigsburg". I'm not sure what that means for my career or DI, but it explains why I like the Met (Metropolitan Museum of Art in New York City).
What are your leisure time activities?
My family is at the center of my non-work life. My husband Jeremy (a biochemist at TIGR, The Inst. For Genomic Research) and I have two great sons, Alex (age 8) and Micah (age 3), and a dog, Jazzy. In addition to keeping up with all of them and their various activities, I play the viola, which I've been doing since second grade. I stopped for a while after Alex was born and was surprised when I got back to playing in orchestras how much I missed it and how much is helps me relax. Even though I often think I'd rather just stay home, I'm always in a better frame of mind after rehearsals. The orchestra I play now, the JCC Symphony Orchestra (www.jccso.org), includes some incredibly talented musicians from all over the Washington, D.C. area who have a truly wide range of experiences and backgrounds.
Do you have any advice for young scientists?
Most of us are drawn to science because we are curious. So keep asking questions. But two basic skills that help scientists be effectiveness are math and writing. Writing in particular is often over-looked or ignored as important by scientists. Learning to write well is critical to communicating your ideas and results as a scientist (or even an engineer).
Biographical details contained on these pages were correct during the Deep Impact mission which ended in 2006. Several scientists from Deep Impact are now working on related missions such as EPOXI and Stardust-NExT.