Michael Belton
Deputy Principal Investigator, Deep Impact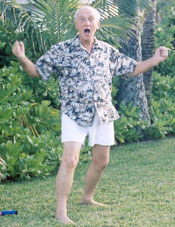 What is the coolest thing about the Deep Impact mission?
The fact that it is an active experiment. Most missions merely look at the targets that they encounter. Deep Impact is among that small set of missions that do something to the target and then measure how it responds.
Where do you work?
I work as president of my own company called Belton Space Exploration Initiatives, LLC, which keeps me involved in space exploration even though I am now retired from an astronomer position at the National Optical Astronomy Observatory. I remain, however, an Emeritus Astronomer at the National Observatory.
How are you associated with the Deep Impact mission?
I am the Deputy PI for the mission and a member of the science team.
Why do you like working at BSEI?
It's a "mom and pop" shop and we own it!
How did you end up working in space science?
I was trained as an astronomer at the University of California, Berkeley. After observing comets and planets from large ground based telescopes I quickly came to the conclusion that only with space missions could we be expected to make rapid steps forward in our knowledge.
What is your everyday work life like?
Between research, mission planning, and golf - there is no time left, except for the occasional book, film, or opera.
Are there any barriers to your work?
No, I am fortunate to largely do what I please.
What do you expect to learn from the Deep Impact mission?
How comets are put together and how they evolve.
As a child, what did you want to be when you grew up?
I didn't know! I just worked hard at what I was good at and what interested me and opportunities came.
At what point did you determine that you would become a scientist?
When I was in the Royal Air Force as a part of National Service.
Who inspired you?
Friends and colleagues.
Were you a science-oriented kid?
No. The music master at school described me as a "...long haired lout!" I was interested in "doing well in exams" and "girls." I guess that I was not terribly wholesome - but my mother was very proud of me. I was also a motorcycle nut.
What was your favorite book as a kid?
By a Silver Stream - a book a little like Winnie the Pooh.
What are your leisure time activities?
Piano, Reading, Golf and Opera.
Do you have any yet to be achieved life goals?
Absolutely. I still wish to learn that which no one else knows. I want to continue making "discoveries." Pushing the envelope!
Do you have any advice for young scientists?
Work hard, finish each job, and do it to the best of your ability.
Biographical details contained on these pages were correct during the Deep Impact mission which ended in 2006. Several scientists from Deep Impact are now working on related missions such as EPOXI and Stardust-NExT.