The Comet | The Discoverer | Orbital History | Rotation
Where is Tempel 1 Now?
---
The Discoverer of Comet Tempel 1:
Ernst Wilhelm Leberecht Tempel (1821 - 1889)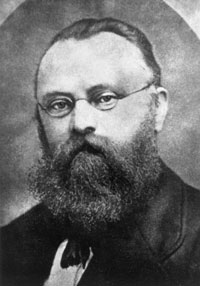 An artistic free spirit, Ernst Tempel was born on December 4, 1821 in Saxony, one of 12 children. Of poor circumstances, Tempel received only a modest education and became largely self-educated. Upon reaching his twentieth year, Tempel began employment in Copenhagen as a lithographer. After three years, he continued his artistic talents in Venice Italy. Having acquired a keen interest in astronomy, Tempel purchased a 4-inch refracting telescope from the Bavarian K.A. von Steinheil and began systematic searches of the heavens. His first discovery occurred on April 2, 1859 when he discovered the comet of 1859. In March 1860, Tempel moved to Marseille France and remained attached to the Observatory there until the end of 1861 when he resumed work as a lithographer in Marseille. In January 1871, the German Tempel was expelled from France by the Provisional Government. He traveled to Milan Italy where he became an assistant to Giovanni Schiaparelli at the Brera Observatory. Toward the end of 1874, Tempel became the assistant in charge of the Arcetri Observatory in Italy. This observatory had been erected in the years 1869-1872 from the designs of Giovanni Donati. However, after Donati's death in 1873, support for the Observatory declined and Tempel was forced to subsist on a meager salary with no funds to complete or maintain the observatory's two refracting telescopes. These instruments had apertures of 9.4 and 11 inches. Despite his difficulties, Tempel observed and recorded a considerable number of nebulae, often using his artistic skills to produce detailed drawings.
Along with the American Horace Tuttle, Tempel discovered the parent comet of the November Leonid meteors in 1866 (periodic comet 55P/Tempel-Tuttle). Among his cometary discoveries were three more periodic comets, 11D/Tempel-Swift in 1869 and comets 9P/Tempel 1 and 10P/Tempel 2 in 1873. Comet 9P/Tempel 1, the target body of the Deep Impact mission, was discovered at Marseille on April 3, 1867 as a diffuse ninth magnitude object in Libra. After its observed return to perihelion in 1879, an approach to within 0.56 AU of Jupiter in October 1881 increased its perihelion passage distance to 2.1 AU. As a result, comet 9P/Tempel 1 was not seen for several subsequent returns to perihelion until additional Jupiter approaches in October 1941 and September 1953 decreased its perihelion distance allowing observations in 1967 and every return thereafter. As well as discovering a total of 13 comets, Tempel also discovered five minor planets. For his first two discoveries in March 1861, the names Angelina and Maximiliana were proposed. Angelina was named in remembrance of the astronomical station of Baron F.X. von Zach near Marseille while Maximiliana was named for Maximilian II, the king of Bavaria. The English astronomers John Herschel and George Airy along with some prominent German astronomers criticized both names because they broke with the tradition of using mythological figures as minor planet names. As a result, the name Maximiliana was changed to Cybele, a nature goddess of the ancient peoples of Asia Minor.
Born two years after the death of Tempel, the German surrealist painter, Max Ernst (1891 - 1976), saw a kindred spirit in Tempel's lust for adventure and the imperturbable joy he took in discovery. Ernst identified with Tempel's difficult life and sympathized with the troubles he encountered in finding suitable work in Germany because he lacked a formal education. One of Max Ernst's last artistic efforts was a collection of 39 lithographs which was dedicated to Tempel and appropriately named "Maximiliana."
---
The Comet | The Discoverer | Orbital History | Rotation
Where is Tempel 1 Now?