Question: Now, the engineers have designed and built the cameras for the Deep Impact mission. It's your job to be sure that they work, what do you do? Consider your own camera. If it's brand new, how would you test it?
Here are your clues:
Your cameras will end up in space so what should your testing area be like?
What kinds of precautions would you take with any expensive piece of equipment before you begin testing?
Take a guess at how you would test your own camera both to make sure it works and also to see if there are any problems. What do all the parts do?
Since this is a space camera, what kinds of people will you want around you to help with the testing?
Answer:
It is very exciting to see a camera come together from its earliest design stages through costing, purchasing and supervising the delivery of parts. Next, the camera is built according to the design and drawings. We created a set of tests to convince us that our camera will properly take images of the nucleus of the comet before, during and after impact. Members of the science team from U. of Maryland, JPL and SAIC all participated in testing the camera within conditions as close to those of space as possible.
Now think of how you would test your own camera.
Where will you take pictures? Duplicate a space-like environment.
A vacuum chamber at Ball is taken to a temperature of -330 F (-220C) and pressure 1/100 millionth that at sea level.
Check out the basic parts and turn on your camera.
The engineers first check the circuit boards to make sure there are no short circuits that could destroy any number of valuable parts. Then we turn on the power.
Look through the lens. What should we see?
When a TV isn't broadcasting anything, you get a "snowy" picture called noise. We have this in our camera too. At this point, we have a very low signal.
Test everything your camera should be able to do.
We let a little bit of light into the camera. We increase the amount of light by a fixed amount and check to see if the signal goes up in proportion to the amount of light we let in. This is good. If it doesn't behave the way we expect, we have to figure out why it's not. We turn off the lamp, and measure the dark background again. We want to see how stable the system is. Is the background noise constant? It should be. We find that the camera is responding to light and to the proportion of light we let in.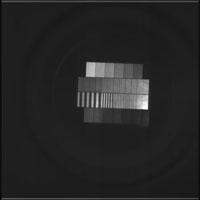 Now what about focus and settings?
We use a fixed pattern target for that. We take lots of measurements of the focal length, the field of view and try to eliminate any scattered light we find. Your camera at home probably went through some of the same kinds of testing before you bought it. Cameras have different filters that let different colors in and then combine them to make a single color picture. We take pictures through different color filters to get one combined picture also. All these filters must be checked as well.
Now get a team to help finish the testing.
Engineers who know every detail of the instrument.
Computer programmers who can check that the software is commanding the instrument to turn itself on and off, to open the shutter and change the filters.
A safety engineer to be sure we don't do anything that might damage the instrument.
Someone to record our data log so careful records of the testing are kept.
Someone to process the pictures and see whether the data meet the requirements of the camera.
It's a big effort with several people that can take weeks. The days are long (12 - 15 hours) with few breaks. Long days on the ground may make us all "testy" but it's almost impossible to fix a camera in space so everyone takes this time very seriously. Of course, when this period called Pre-flight Testing is over, we can go out and celebrate and then get much needed sleep.
How did you do?
Content from Science team members: Lucy McFadden, Dennis Wellnitz UMD, and Jessica Sunshine, SAIC.
Click here for more Brain Twisters.